Swimming is one of the most loved and practiced sports in Venezuela. The country, with its warm climate and beautiful beaches, offers the perfect setting for swimmers to develop their skills and compete in various competitions. In this article, we will explore the most popular swimming competitions in Venezuela.
Venezuela Swimming Cup
The Venezuela Swimming Cup is one of the most anticipated events on the Venezuelan swimming calendar. Organized by the Venezuelan Swimming Federation, this competition brings together swimmers of all ages and skill levels. The Venezuela Cup is an opportunity for young talent to show their skills in the water and for more experienced swimmers to demonstrate their mastery in different swimming styles, such as freestyle, backstroke, breaststroke and butterfly.
National Swimming Championship
The National Swimming Championship is the summit event in the world of swimming in Venezuela. Here, the country's most outstanding swimmers gather to compete for the title of national champion in their respective categories. This event often serves as a qualifier for international competitions, such as the Pan American Games and the Olympic Games, adding an extra level of excitement and competition.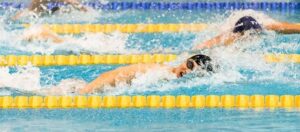 Caribbean Swimming Cup
The Caribbean Swimming Cup is a regional competition that brings together the best swimmers from Venezuela and other Caribbean countries. This event is an excellent opportunity for Venezuelan athletes to compete with swimmers from other nations and measure their skills in an international context. Camaraderie and friendly competition are the hallmarks of this exciting competition.
National Open Water Circuit
Venezuela is also known for its natural beauty, including its beautiful beaches and rivers. The National Open Water Circuit is a competition that takes advantage of these natural wonders. Swimmers participate in long-distance races in open water, braving waves and currents to achieve victory. This competition is a true test of endurance and determination.
National Sports Games
The National Sports Games of Venezuela are a multi-sports event held every four years. Swimming is an integral part of these games, and swimmers from across the country compete in various aquatic disciplines. The National Sports Games are a unique opportunity for athletes to showcase their talent and represent their states in a national competition.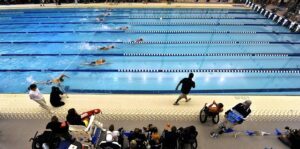 Interschool Tournaments
La natación es un deporte popular en las escuelas de Venezuela, y muchos estudiantes participan en torneos interescolares. Estos eventos fomentan la competencia amigable entre las instituciones educativas y ayudan a identificar jóvenes talentos que podrían llegar a competir a nivel nacional e internacional en el futuro.
Competencias Master de Natación
Los nadadores masters son aquellos adultos que continúan compitiendo en natación a lo largo de sus vidas. Venezuela cuenta con una vibrante comunidad de nadadores masters que compiten en eventos locales, nacionales e internacionales. Estas competencias fomentan la salud, la actividad física y el compañerismo entre las personas mayores.
Conclusión
Swimming is a beloved sport in Venezuela, and the competitions mentioned above are just a few of the many opportunities swimmers have to show their talent and passion for the sport. From local competitions to international events, swimming in Venezuela has something to offer swimmers of all ages and skill levels. Additionally, these competitions promote camaraderie, health and physical activity in the Venezuelan community.